We have relied on Domcrete for the past 6 years day in, day out and the service and attentiveness is consistently of the highest level. Whether it be for supplies or technical information & questions, the Domcrete team always have the answers! If you are experienced or new to the concrete game, we couldn't recommend Domcrete enough!

Scott Henderson & Michael Mitris

Concrete Collective
At Domcrete you will get the best products and advice in Australia. I have built a business based off quality products and outstanding support for the team. Dom is hands down the most knowledgeable man in the industry.

James Gatehouse

Mixed Elements
Domcrete's product quality is second to none and it is this quality that has allowed us to deliver outstanding results for our customers time and time again. The technical assistance, the training and development and the fast and efficient ordering and delivery options instil an extremely high level of confidence in Domcrete.


Ian Quak

Concrete Envy
Friendly, knowledgeable, and passionate team
Over the many years of dealing with Dom, we have developed a strong supply chain partnership. We can speak first hand on the quality of the training, mentorship and product offering of Domcrete What began as a professional relationship has developed into a genuine friendship Domcrete have supported our business journey from Australian trainee & manufacturer, to European trainer & distributor

Tony Taylor

Polcrete
"Domcrete have been instrumental to the success of our business and has always been more than generous with his time and expertise."

Duncan McNally

Concrete Bespoke
"We couldn't be happier with the quality of materials and the highest standard of customer service and advice that Dom, Liana and the team provide time and time again"

Jaidyn Binnie

Edje Concrete
"Domcrete's most valuable product is their customer support and back up, I haven't had a problem that they couldn't help me fix. "

Justin Shepherd

Adelaide Outdoor Kitchens
"Domcrete have provided us with great support and ongoing help with their products."

Tim Mott & Dane Bluwitt

Sticks and Stone co
"Domcrete continues to develop new products and improve on those they currently have, it is a forever evolving industry and Domcrete is at the forefront"

Kyle Murray

Creative Crete NZ
"The support provided by the Domcrete team is second to none – superior products and exceptional customer service."

Jared Evans

Set In Steel
Products our clients can't get enough of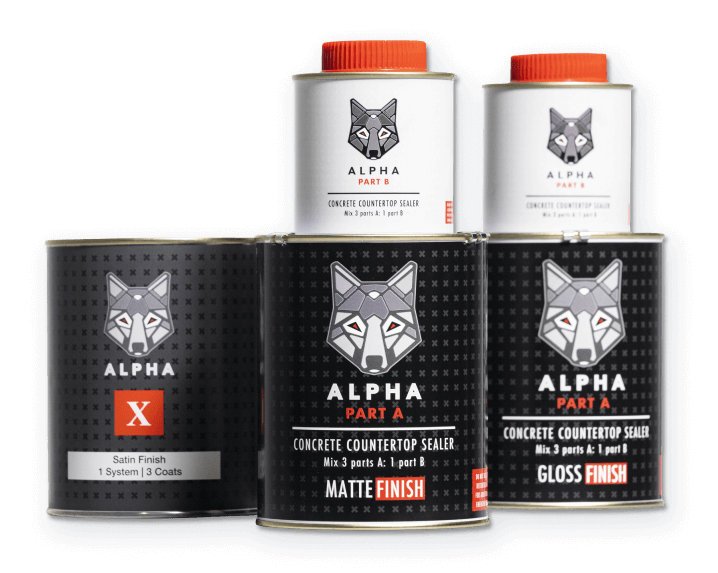 Alpha Concrete Sealer range are high performance specially formulated sealers that provides excellent stain and abrasion resistance
GFRC – Glass Fibre Reinforced Concrete
Get familiar with GFRC – Glass Fibre Reinforced Concrete. GFRC is a cement based composite material reinforced with alkali-resistant (AR) Glass Fibre
GFRC can be used for a wide range of applications, including and not limited to architectural designer concrete, facades and paneling, fireplace surrounds, vanity tops, basins and bath tubs, kitchen benchtops, countertops, stair treads, street art and functional furniture.
GFRC has an endless scope of possibilities only limited by your imagination!
Concrete evidence of
our clients' success.
National and International Leaders within the Engineered Concrete Composites and GFRC Manufactuing markets.
"Domcrete can't get a product, no one can
I've been doing business with Domcrete for nearly nine years and in that time they have been consistently one of our most reliable suppliers. If Domcrete can't get a product, no one can. Domcrete is always looking for better products while constantly improving their own range. Domcrete's most valuable product is their customer support and back up - I haven't had a problem that they couldn't help me fix."

Adelaide Outdoor Kitchens

(Justin Shepherd)
"Expectations are always met
Domcrete are always responsive in a timely manner, always displaying a sense of urgency when required to meeting deadlines for clients. Communication is always clear and expectations are always met, if not exceeded. The support provided by the Domcrete team is second to none – superior products and exceptional customer service."

Set In Steel

(Jared Evans)
" The highest quality in materials
The Domcrete team has a vast knowledge of everything GFRC and mould making. Domcrete have been instrumental to the success of our business and has always been more than generous with his time and expertise. The team offer the highest quality in materials and service and we look forward to many more years working together"

Concrete Bespoke

Duncan McNally
" We couldn't be happier
We have been using Domcrete's products since we started Edje Concrete and we wouldn't go anywhere else for our GFRC supplies. We couldn't be happier with the quality of materials and the highest standard of customer service and advice that Dom, Liana and the team provide time and time again."

Edje Concrete

(Jaidyn Binnie)
"We have relied on Domcrete for the past 6 years day in, day out and the service and attentiveness is consistently of the highest level. Whether it be for supplies or technical information & questions, the Domcrete team always have the answers! If you are experienced or new to the concrete game, we couldn't recommend Domcrete enough!"

Concrete Collective

(Scott Henderson & Michael Mitris)
"Domcrete you will get the best products and advice in Australia. I have built a business based off quality products and outstanding support for the team. Dom is hands down the most knowledgeable man in the industry."

Mixed Elements

(James Gatehouse)
"The team at Domcrete have been an integral partner in the success of Concrete Envy. Domcrete's product quality is second to none and it is this quality that has allowed us to deliver outstanding results for our customers time and time again. However, it is the support offered by the team at Domcrete that truly sets them apart. The technical assistance, the training and development and the fast and efficient ordering and delivery options instil an extremely high level of confidence in Domcrete. This is a business relationship that has allowed our company to not only grow but to thrive."

Concrete Envy

(Ian Quak)
"Friendly, knowledgeable, and passionate team
Over the many years of dealing with Dom, we have developed a strong supply chain partnership. We can speak first hand on the quality of the training, mentorship and product offering of Domcrete
What began as a professional relationship has developed into a genuine friendship
Domcrete have supported our business journey from Australian trainee & manufacturer, to European trainer & distributor"

Polcrete

(Tony Taylor)
Ready to kickstart your next big idea?
Fire us an email with your project details by filling in the form below